Greg Norden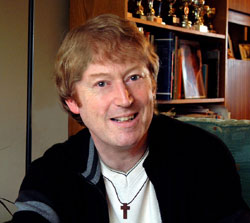 Greg Norden was born in 1954 and has had an interest in railways since childhood when he lived close to the London - Southampton main line at New Malden, Surrey. Joining British Rail straight from school, he worked 14 years in several train planning departments and travelled over most of the passenger and freight lines in the Britain, gaining a comprehensive geographical knowledge of the U.K.
After becoming sales manager in a successful midlands builder's merchant chain, he developed M.E. after a severe viral infection and spent many years in a largely horizontal position with immune and neurological complications. During this time of slow recovery he received much support from family and church and the local M.E. group, which he helped to run. During his convalescence, he began researching the subject of railway carriage prints and posters and the artists involved. He confesses he knew nothing at first about art ("I thought Hertz Van Rental was a Dutch painter") and has since gained a wide knowledge of 20th century British watercolours and commercial art and is the leading authority on railway carriage prints and posters. He is currently working on the third edition of Landscapes under the Luggage Rack and a documentary on the subject with the celebrated TV presenter, Nick Crane. A series of "then and now" regional books on carriage print locations and a couple of books on the artists Jack Merriott and Claude Buckle are also in the pipeline [ok, folks - it's a long pipeline...!].
He lives in Northampton, is now married to Marie and has three wonderful older children. Between them, they have 11 grandchildren. He has more or less recovered from the M.E. but his sense of humour is still in a critical condition. He plays guitar and table tennis (but not at the same time) and he and his wife, Marie are currently active in a great local church – New Life, Northampton.
Fancy a bit of light reading? See the not entirely factual profile of Greg Norden.
The Collection
During Greg's long illness, he remembered a pile of old pictures lying, forgotten, under a bed. He acquired these prints in the 1970s from a railwayman who has saved them from a skip at Waterloo Station when the railways were throwing away piles of redundant posters. After contacting various museums and galleries, it became apparent that nobody knew much about them, so his own researches began.
The railways kept no real records of which carriage prints were used so it took Greg years of detective work, prayer!, and contacting many collectors and artists, to finally piece together and produce the completed listing of all prints issued since 1936. Many prints have survived after being displayed in railway carriages, but these tend to be faded and stained, and obtaining unused prints in excellent original condition has been his target. Over the years he has tracked down and added other mint examples to the portfolio and has the largest collection in the country.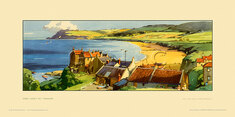 One of the great joys in the process of collecting has been his involvement with many of the artists and their relatives, and the friendships that have developed along the way.
Many of the prints are very scarce and countless people, including preservation societies, art lovers, interior decor designers and fans of a nostalgic and bygone Britain, have requested that Greg's collection be made available to a wider audience, hence the setting up of the Travelling Art Gallery image library.