The Collection
During Greg's long illness, he remembered a pile of old pictures lying, forgotten, under a bed. He acquired these prints in the 1970s from a railwayman who has saved them from a skip at Waterloo Station when the railways were throwing away piles of redundant posters. After contacting various museums and galleries, it became apparent that nobody knew much about them, so his own researches began.

The railways kept no real records of which carriage prints were used so it took Greg years of detective work, prayer!, and contacting many collectors and artists, to finally piece together and produce the completed listing of all prints issued since 1936. Many prints have survived after being displayed in railway carriages, but these tend to be faded and stained, and obtaining unused prints in excellent original condition has been his target. Over the years he has tracked down and added other mint examples to the portfolio and has the largest collection in the country.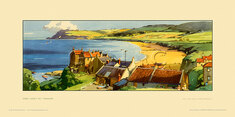 One of the great joys in the process of collecting has been his involvement with many of the artists and their relatives, and the friendships that have developed along the way.

Many of the prints are very scarce and countless people, including preservation societies, art lovers, interior decor designers and fans of a nostalgic and bygone Britain, have requested that Greg's collection be made available to a wider audience, hence the setting up of the Travelling Art Gallery.