Profile on Greg Norden (not entirely factual!)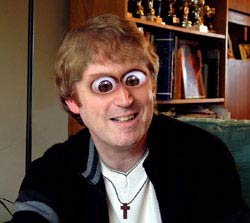 Greg Norden was born clutching an ASBO in 1954 in Chiswick, London, by the fast lane of the M4 - a cruel start in this world, without a hard shoulder to cry on. The son of two parents, and starting from a poor and humble beginning, he rose dramatically in the upper echelons of society to become 6 foot 3 inches.
At the age of 11 came the surprise discovery, using the new DNA technique, that he was human. He was therefore fast tracked into the education system, starting at Eton (Scroat Lane Borstal) and then at Harrow (Young Offender's Unit) before attending Oxford University where he was employed as a van driver for the daily delivery of student's egos. Taking a B.A., reading 'Scottish Poets', he failed two courses before finally obtaining a distinction in his third degree, 'Burns'.
A short military career spanning 10 hours followed, where he passed out at Sandhurst after an excess of Old Speckled Hen. Coming to the following morning, Greg was called up to serve in Surrey for the 3rd Disgusting Railway Fusiliers and fought at the Battle of Waterloo, 1815, but missed the train due to overcrowding and had to battle again to get on the 1825. He was mentioned in GPO despatches and decorated by the government, mainly in woodchip paper and army-surplus camouflage paint, sold on the cheap from a builder's merchant in Daventry where Greg, coincidently, happened to be employed as sales manager at the time.
His sporting talent came to the fore in the latter years of the 20th century, when Greg Norden appeared in many Masters Golf tournaments around the world, until the spelling mistake was discovered. The prize money was never recovered - hence his nickname "the great white shark".
His move to Northampton in 1980 had helped speed the rapid decline of the shoe industry in the town, when his design for the royal insignia crests displayed above the footwear factories, and bearing the words "By Appointment to her Majesty - Cobblers to the Queen", caused no small public stir. Due to a long bout of the dreaded lurgey, he then spent a time helping in a local medical surgery, but his appalling sense of humour would annoy all around him, including the doctors, and their patients would often run out.
Greg now spends much of his time in church activities, walking around praying, and half-heartedly talking to the trees, whilst concerned friends often suggest that he would improve if he was committed. When asked why his own attempts at artwork involves painting everything in gold, he replies that it is due to a childhood gilt complex.
He had worked for the railways for 14 years, and it finally dawned on him that things would be better if the railways worked for him. This change of mindset culminated in the writing of his book Landscapes under the Luggage Rack, from which he and his family (also thought to be human, but awaiting tests to confirm) are still recovering.