Welcome to the Travelling Art Gallery
for that special gift solution
---
Fine art giclée prints and photographs for sale, digitally reproduced from the most extensive collection of original railway carriage prints in Britain.
Over 1500 unique landscapes by leading 20th century artists and photographers, creating a fascinating retro décor and a talking point for home, office, hotel, restaurant and pub.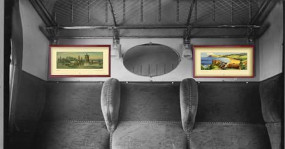 Using these quality reproductions, collect nostalgic views of Britain's best loved, 20th century landscapes before the motor car had exerted its influence on the country. From lost views of towns and cities, to pleasant villages in rural areas; from remote mountain scenes, to the numerous ports and resorts around the coast of Britain and Ireland.
"The next best thing to a journey in the carriages themselves"
[Railway Magazine]
Many passengers can still remember the days when their journeys were enhanced by the framed pictures, advertisements and maps that kept them company in their railway compartments...
In the mid-20th century the railway companies used artwork from over 60 leading watercolour and railway poster artists of the era. These included Rowland Hilder, Jack Merriott, Frank H Mason, Leonard Squirrell, James McIntosh Patrick, Henry Rushbury and Claude Buckle, who produced landscapes of Britain to be displayed in their trains as railway carriage prints.
From the late 19th century, the railway companies displayed unique sepia, black/white and colour-tinted photographs of Britain.
In the 1950s, the London Midland Region of British Rail displayed two series of prints featuring historical scenes in their area.